Hangzhou Scantech Co., Ltd is a high-tech enterprise which was composed of industry experts, returnees Doctors and high-tech youth talents. Leading by the returnees Doctors, the R&D team developed a series of mechanical and electronic products which possess the proprietary intellectual property rights. Through a four year research, develop and test, Scantech released the HSCAN hand held scanner in 2015 and have enjoy great reputation in the market
  The product structure and configuration was designed by both the structure engineer and R&D designer, which consider the human engineering and applicability. The HSCAN 3d scanner own the Golden Pin Design Award. It is an annual award that accepts entries from individuals or companies that are selling, manufacturing, or designing products or projects in a Chinese-speaking country or region. The GOLDEN PIN DESIGN AWARD is the Design worthy of the world's largest market. The annual Golden Pin Design Award is the longest-running design award that celebrates products expressly created for the Chinese-speaking market. Participating individuals and companies are judged on their ability to innovate in this dynamic economy. As the gauge for leading design in Chinese-speaking communities, the Golden Pin Design Award offers entrants an unprecedented opportunity to prove their prowess in the world's largest market.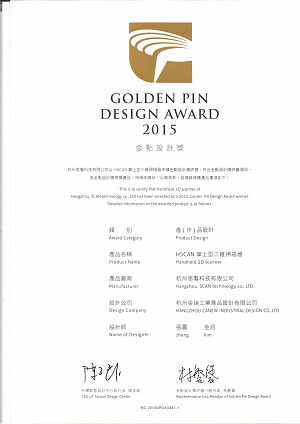 HSCAN 3d scanner have been widely used in colleges, research institutions, automobile industry, large-scale machinery enterprise and modeling design companies.
  HSCAN 3d scanner adopts multiple beam laser to obtain the three-dimensional point from object surface. It can automatically generate the STL triangular mesh surface, and the data can be processed rapidly as the format is STL. The scan software can automatically process the point cloud data such as select, delete, remove the isolated point and non-connected one, smooth filtering, feature merge. The target point automatically orientates and needs no additional mechanical arm or other tracking device. The handheld device could be carried with the personnel. And the weight is less than 1kg.Connect by the Gigabit Ethernet cable and support work over a long distance. The handheld device could be carried with the personnel. And the weight is less than 1kg.
Technical parameters of HSCAN series handheld 3D scanner
型号
HSCAN300
HSCAN331
HSCAN771
重量
0.95千克
尺寸
315*165*105毫米
光源形式
三束平行激光线以及一束可以单独工作的激光线,共计4束激光线
三束交叉激光线以及一束可以单独工作的激光线,共计7束激光线
七束交叉激光线以及一束可以单独工作的激光线,共计15束激光线
扫描速率
205,000次测量/秒
265,000次测量/秒
480,000次测量/秒
激光类别
Ⅱ级(人眼安全)
分辨率
0.05毫米
精度
最高0.04毫米
最高0.04毫米
最高0.03毫米
体积精度1
(单独使用扫描仪)
0.02毫米+0.1毫米/米
0.02毫米+0.08毫米/米
0.02毫米+0.06毫米/米
体积精度2
(配合全局摄影测量系统)
0.02毫米+0.025毫米/米
基准距
300毫米
景深
250毫米
输出格式
. ply、.xyz、.dae、.fbx、.ma、.obj、.asc、.stl等,可定制
工作温度
5~40℃
接口方式
千兆网